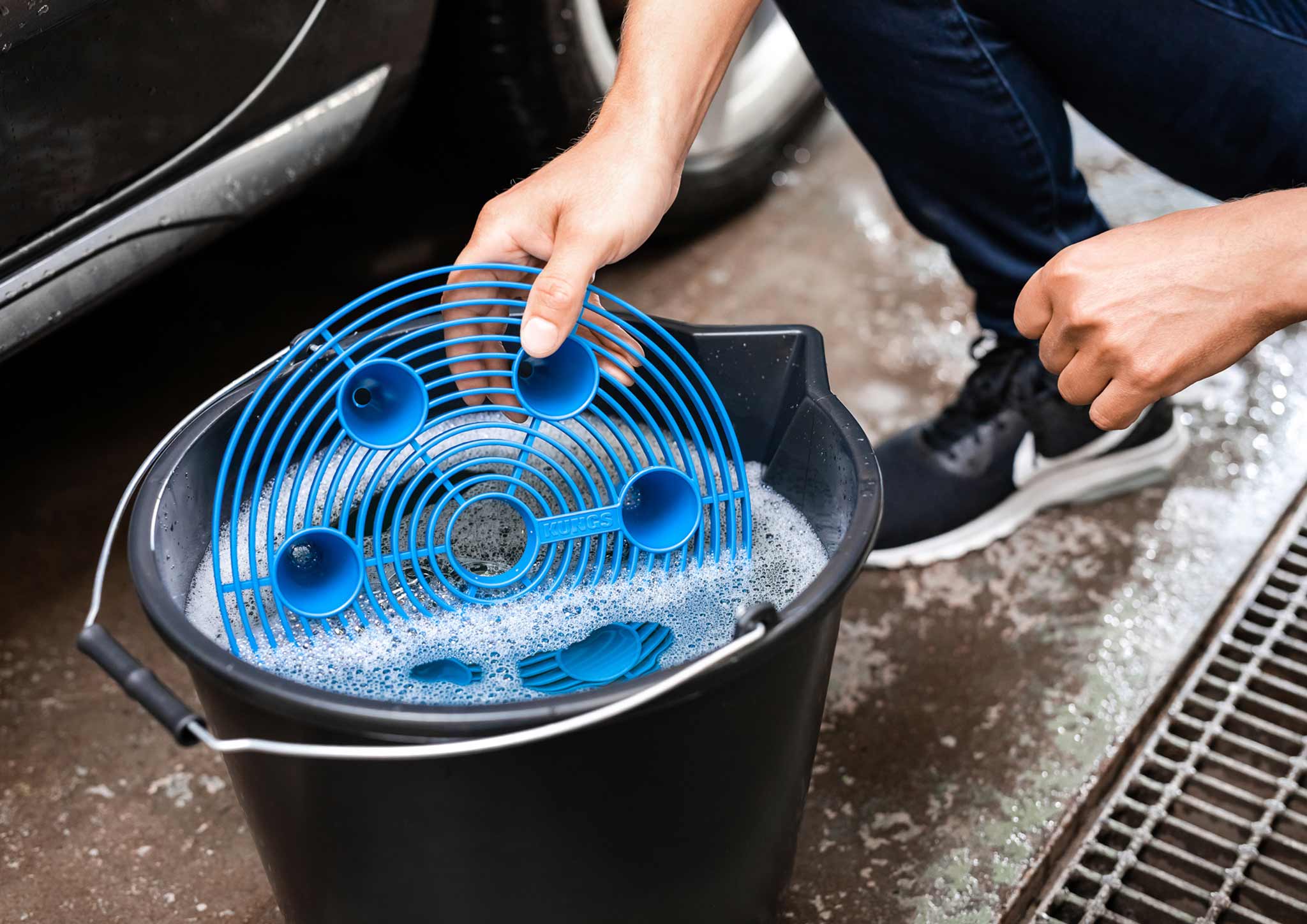 Tips for washing a motorcycle
The basic principles of washing a car also apply to motorcycles. First, you rinse the motorcycle thoroughly, followed be washing with plenty of water and progressing from cleaner areas to more dirty ones.
Prefer warm water for washing because it will intensify the effect of the detergent, making dirt come off easier. Fairings can be washed using the Kungs microfibre sponge and car washing detergent. Other Kungs brushes and sponges are also suitable for washing motorcycles. Only wash a motorcycle once its engine has cooled down. Avoid pressure washing in order to not damage the electrical equipment and O-ring chains.
Often, chain lubricant is so sticky that it cannot be removed with normal detergent but requires solvent. The Kungs solvent-proof pressure sprayer bottle is an excellent tool for spraying solvent. Chain lubricant can be removed from rims and fairings using chain detergent or break cleaning products. After washing, you should re-lubricate the chain.
The Kungs wheel/rim brush can fit in small crevices, making it suitable for washing rims and removing larger pieces of dirt from the chain. Spray the chain with detergent and remove excess dirt using a brush or a cloth. Once the chain is clean, it must be lubricated again. You should also open the front fender occasionally and clean any dirt that has built up.
Washing the chain thoroughly will considerably increase its life span. You should have the motorcycle supported on a centre or rear stand while washing it. Spin the wheel by hand, as necessary. Special detergents designed for cleaning chains are available in motorcycle and car accessory shops. You shouldn't use just any detergent for washing because the wrong product might damage the O-rings.
A genuine chamois or a microfibre car cloth are good for drying and a polishing cloth for the finishing touches.